About Meg Cabot Wiki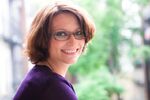 Meg Cabot Wiki is an encyclopedia dedicated to the author Meg Cabot. This wiki covers all of her books, including short stories, characters, and adaptations. The wiki format allows anyone to create or edit articles, so we can all work to make a comprehensive database.

About this wiki...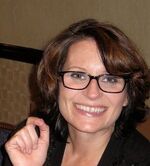 Don't know anything about how to edit? Here are some guides that can be helpful for you: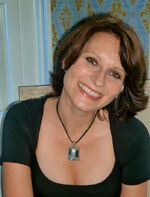 Don't know how to help or improve this wiki? Here are some links that can guide you:
Here in Meg Cabot Wiki we have some rules for the users behavior and edits. Follow this small list of rules and you will have a great time here:
Foul language is not allowed under any circumstances.
Illegal content is forbidden on the Wiki.
Vandalism will result in an immediate and one week ban.
All of the pages should include real, factual content.
If the edits you make do not provide anything to the wiki, you'll be warned.
If you continue with those edits, you'll be banned.
About Meg Cabot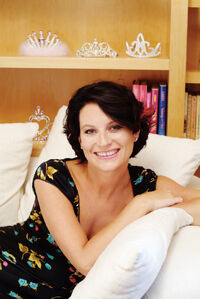 Meg Cabot is a #1 New York Times bestselling author. She has written over eighty novels in various genres for young adults and adults. Her novels have sold over twenty-five million copies worldwide. Cabot is best known for her young adult series, The Princess Diaries and The Mediator. The Princess Diaries was made into two feature films by Disney.
Born in Bloomington, Indiana in 1967, she was thirty when her first novel, Where Roses Grow Wild, was published in 1998 under the pen name Patricia Cabot. Her first young adult novel, The Princess Diaries (2000), was rejected by over seventeen publishers. It spawned several follow-up novels as well as a sequel series aimed at middle grade readers. Her recent releases include No Judgments, the first in the Little Bridge Island series, and the graphic novel Black Canary: Ignite.
She currently lives in Key West, Florida with her husband of over twenty years and their various cats. Read more...
News
On the Web
Loading RSS data...
Browse
How to Help
All pages can be edited and you are welcome to join us and contribute to this wiki. Everyone is free to create a new page or edit an existing one. If you have any questions about the wiki or helping out, you can ask one of Meg Cabot Wiki's administrators.
If you are new to wikis, you may want to read the help page.
A list of all help pages can be found in .
If you want to help but you're not sure where to start, try improving the various articles by expanding them.
Another helpful activity would be to check the list of wanted pages for frequently linked-to articles that don't exist yet.
You can find a list of useful templates on .
If you want to experiment with editing a wiki, please do it in a sandbox, not in articles.
Latest books
Featured Poll
What Meg Cabot series/book is your favorite?
Affiliates


Community content is available under
CC-BY-SA
unless otherwise noted.