Meg Cabot (born Meggin Patricia Cabot on February 1, 1967) is an author of romantic fiction for teens and adults. She began her writing career in 1998 with the pen name, Patricia Cabot. Cabot has written over eighty books, and has garnered several #1 New York Times bestsellers.
Cabot may be best known for her young adult series, The Princess Diaries and The Mediator. She currently lives in Key West, Florida with her husband and several cats.
Biography
Early life
Cabot was born on February 1,[1] 1967 in Bloomington, Indiana.[2] She wrote her first story at seven about a puppy whose "entire family dies in a freak prairie tornado."[3] During elementary school, Cabot was taken out of class a few times a week to correct a speech impediment. Her classmates would then call her names, which she wrote about in her childhood diaries. Cabot later used her diaries as inspiration for her books.[4] In high school, she wrote for her school's newspaper and was also involved in choir, theater, and the art club.[5] She graduated from Bloomington High School South in 1985.[6]
She went on to study studio arts at Indiana University Bloomington. Cabot chose majoring in art over writing after speaking to "a random guy [she] met at a party" who advised her that "studying creative writing as a major sucks the love of writing out of you."[7] She graduated in 1991 and moved to New York City with the intention to become an illustrator. Cabot became freshman dormitory assistant manager at New York University,[5] which later inspired her Heather Wells Mysteries series.[8] She worked there for ten years.[6]
Marriage
Cabot first met her husband, Benjamin D. Egnatz, at age sixteen.[3] He was the "random guy" whom gave her advice on her major. They met again several years later while living in New York.[7] Cabot and Egnatz eloped on April 1, 1993 in a small village, called Diano San Pietro, in Italy. April Fools Day was chosen because of her husband's belief that "only fools get married." The village's mayor refused to marry them, thinking they were joking. Thanks to local villagers and the couple paying 50,000 lira to a local fund, he finally performed the wedding ceremony. Cabot later used the experience for Every Boy's Got One.[4]
Career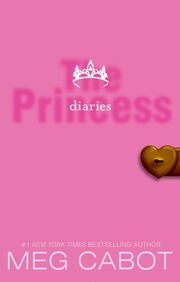 It took three years for Cabot to find an agent and another year to find a publisher. She was thirty when her first book, Where Roses Grow Wild, was published in 1998.[7] Cabot used the pen name, Patricia Cabot, "so her grandmother wouldn't know she was writing books with sex in them."[3] She began writing a young adult novel at the urging of a friend. The Princess Diaries was rejected by over seventeen publishers, before HarperCollins picked it up in 2000.[9] The novel was adapted into a film directed by Garry Marshall in 2001, and spawned a 2004 sequel.[10]
Cabot began The Mediator series at the same time as The Princess Diaries. The Mediator was released under a pseudonym, Jenny Carroll, due to being published by a different publisher. HarperCollins took over the series with its fifth book, Haunted (2003).[11] In 2001, Cabot started another young adult series with When Lightning Strikes, the first novel in 1-800.[5] The series was adapted into a television series, which ran for three seasons on Lifetime.[12] The following year, Cabot penned two stand-alone young adult novels, All-American Girl and Nicola and the Viscount,[5] as well as the adult novels, She Went All the Way[13] and The Boy Next Door.[14]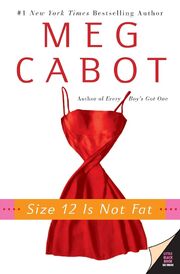 In 2004, Cabot released Boy Meets Girl, a follow-up to her Boy series.[15] The next year, the first novel in her Heather Wells Mysteries series, Size 12 Is Not Fat, was published. She wrote four follow-up novels; the latest being The Bride Wore Size 12 (2013).[16] The following year, Cabot finished her 1-800 series with the fifth novel, Missing You. It was published by HarperCollins after the previous publisher decided against Cabot's eight book proposal some years earlier.[17] The same year, she began her Queen of Babble trilogy.[18] In 2008, Cabot began her young adult trilogy, Airhead,[19] and her first series for middle grade readers, Allie Finkle's Rules for Girls.[20]
Cabot released the tenth and then final book of The Princess Diaries series, Forever Princess in 2009.[21]
Selected bibliography
Main article: Meg Cabot bibliography
Notes
Cabot has a brother who is a police officer. His chief enrolling his force in yoga classes to combat aggression partially inspired Cabot's Bridal Boot Camp.[22]
References
External links