Please keep character details minimal on this page to avoid too many spoilers. For more detailed information, click on the individual character pages.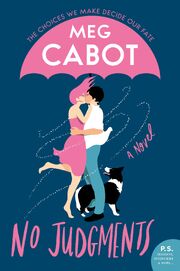 Meg Cabot's Little Bridge Island are a series of novels connected through the same setting. In a similar vein to Cabot's Boy series, each novel follows a different developing couple. Bridal Boot Camp focuses on Roberta James and Ryan Martinez, while No Judgments follows Sabrina "Bree" Beckham and Drew Hartwell, and Molly Montgomery and John Hartwell in No Offense.
Main characters
Roberta James
Roberta "Rob" James is a fitness instructor at a gym which she co-owns with her best friend, Jenna. She is not a native of Little Bridge Island,[1] but has lived there for some years. Rob has been hurt numerous times by people in her past, including her alcoholic parents and her latest boyfriend Pete, whom stole money from her and her business. Because of her past, she starts to believe that nothing good can happen to her and hesitates in matters of romance. Rob becomes attracted to Ryan Martinez and the two eventually start dating.[2]
Ryan Martinez
Ryan Martinez is a deputy sheriff with the Little Bridge Island Police Department. He is affectionately called "Rookie" by his colleagues since he was the last person to be hired. Ryan's partner is a German shepherd named Chrissie, whom accompanies him everywhere. He misunderstood a well-meaning stranger and pulled a taser on him when he thought he was trying to hurt Chrissie. Sheriff Hartwell ordered Ryan to take yoga to curb his "male aggression." He visits the local gym, where he meets Roberta. They develop a mutual attraction that turns into a relationship.
Sabrina Beckham
Sabrina Beckham, also known as Bree, is a waitress at the Mermaid Café.
Drew Hartwell
Molly Montgomery
John Hartwell
Little Bridge Island residents
Jenna
Jenna "Jen" is Roberta's best friend. Together they co-own a gym, where they both work as trainers. Jenna is married to Javier, her husband of twelve years. The couple had two children together.[3] Jenna regularly encourages Rob to date again and successfully convinces her to go see Ryan.
Hartwell family
Animals
Chrissie
Chrissie is a German shepherd owned by Ryan. He considers her his partner since she accompanies him almost everywhere, including while he is working. Ryan is very protective of Chrissie, which was shown when he pulled a taser on a stranger whom he thought was trying to hurt her. In actuality, the stranger was only making sure she was okay.
Minor characters
Bridal Boot Camp
Anna is a Cuban[4] woman in Roberta's "bridal boot camp" class.
Bettina is the wife of Little Bridge Island's mayor. She has been attending Roberta's classes for two years. Bettina is taking "bridal boot camp" in preparation for her niece's wedding.
Connie, Lauren's mother who is also attending the "bridal boot camp." Lauren convinced her to buy an expensive wedding gown, which Connie concerned about her being able to fit in it.
Javier is Jenna's husband of twelve years. They have two children together.
Lauren, a bride-to-be attending Roberta's "bridal boot camp" class. She ordered a wedding dress that is a size too small and wants to lose an inch off her waist to fit in it. Her fiancé is a NFL prospect.
Patrick, one of the only men in Roberta's "bridal boot camp" class. He is engaged to his longtime partner, Bill. They plan to hold the wedding in August at Sandy Point.
Pete, Roberta's ex-boyfriend and a charter boat captain. He stole money from her personal account and her gym. Pete later fled the island with Roberta's saving and an exotic dancer named Katarina.
No Judgments
No Offense
References
See also